Date/Time
Date(s) - Tue, 03/04/2014
9:15 am - 10:45 am
Location
North Oaks Golf Club
Categories
Tuesdays: North Oaks Golf Club All-levels 9:15-10:45am
MAR 4 – MAY 27 (no class 3/18) Note: sessions are on-going, year 'round, breaking only for holidays. Pro-rate, don't wait!
12 Tuesdays, $156.
Learn yoga the way it was meant to be– as meditation in motion, without the music and mirrors to distract you.  Instructor gives lots of one-to-one assisting so students can adapt the practice to their body type, range of motion and fitness level.  Reclaim health and well being in these comprehensive classes that will leave you feeling like you had a work-out, massage and vacation.  Participants in "all-level" classes should be able to move easily from the floor to standing poses (if not, please see "therapeutic" options).  Classes are held in the main ballroom area, overlooking the gorgeous course; outdoor options for warmer temperatures.  Gear to lend.  Not flexibile?  It's OK, you need yoga all the more!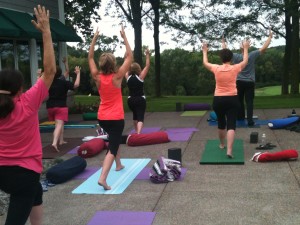 Bookings
Bookings are closed for this event.