Date/Time
Date(s) - Mon, 04/08/2019
8:15 am - 9:35 am
Location
North Oaks Golf Club
Categories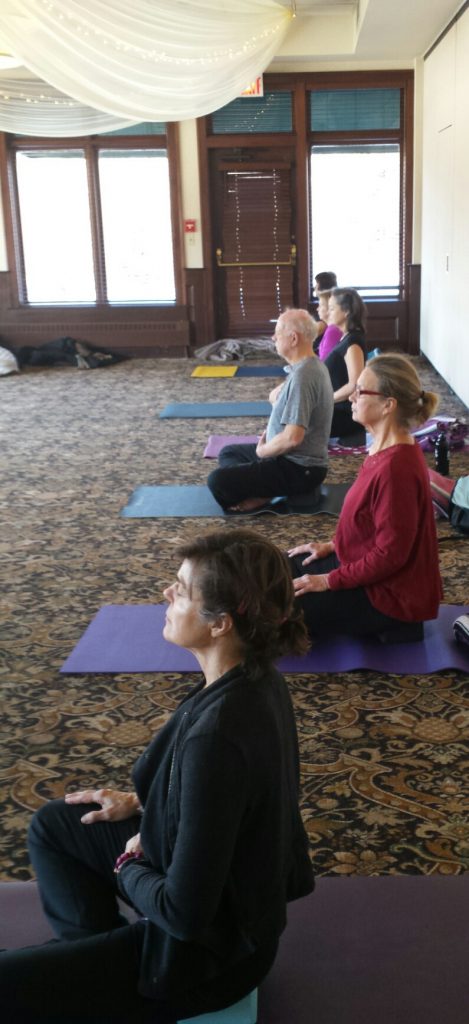 YogaHotDish is your go-to style for fitness, wellness and longevity. 
 Vinyasa Flow, Hot Yoga?  Too dangerous, risky for the joints and spine. Senior Yoga? Too gentle, few results. Both are often taught by instructors with little experience.  The YogaHotDish approach has been honed over 20 years by founder and North Oaks resident Shaila Cunningham.  This challenging class weeds out poses and techniques where the risk doesn't justify the reward.  It also approaches yoga as "meditation in motion" so you capture the cognitive and mood benefits–impossible with music and mirrors.  So what's your longevity strategy?  Sure, you workout, maybe play golf or tennis, but fitness isn't always wellness. In fact, asymmetrical sports, strength training, running, etc.  can be hard on the spine.  Good posture = good health!
You plan early for your financial retirement, but what about investing in a plan for ensuring you can continue to live fully?
YogaHotDish is for active seniors, desk/sedentary workers, beginners, those rehabbing injuries or wanting to avoid them in the first place. Check it out if your vinyasa flow class is "too hard" on your body or if your gentle/senior yoga isn't getting results. Maybe Tai Chi seems too complicated and Pilates too repetitive–this could be your class!  If you do play a sports such as golf or tennis which rely on the smooth uncoiling motion of the spine, you will up your game!
Gear provided, but bring a mat if you have one.  Must be able to get up off floor unassisted. 
These are proper, full length yoga classes–not to be confused with group exercise with a yoga theme, taught in 1 hour or less.  Your "cost per minute" of quality yoga instruction is far less when compared to other venues such as Shoreview (SVCC), YMCA and even studios offering "unlimited yoga" (note: most people only attend 1-2x/week for the first few of months of a year-long contract).
WINTER: DEC 3 – FEB 25 (no class 12/26, 12/31). 11 Mondays $165.  Try it once for $10,  Students w/ I.d. always $10. Enrolled HotDishers from other locations can add this class $10.  Make-ups from other locations are free. Drop-in: $20.  Priority to Club Members and North Oaks Residents.